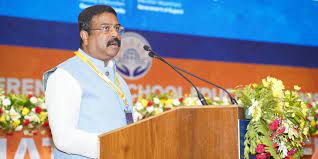 On Thursday, the Union Education Minister, Dharmendra Pradhan, launched the National Curriculum Framework. It has been launched for the foundational stage of education for the children 3-8 group.
This is the first time the NCF has been prepared for the foundational stage and children aged three will be brought into the formal schooling system as proposed in the National Education Policy-2020 (NEP).
In context of education of children, the NCF says its five parts are physical development (sharirik vikas), development of life energy (pranik vikas), emotional and mental development (manasik vikas), intellectual development (bauddhik vikas) and spiritual development (chaitsik vikas).
"The NCF (National Curriculum Framework) is an important step taken to implement the New Education Policy-2020. I also appeal to the National Council of Educational Research and Training (NCERT) to comple ..